Simonton Lake Preservation Trust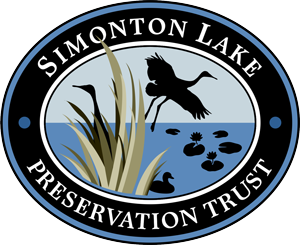 The Land Trust Alliance says it this way. The land gives us life. We get our food from the land. And our water, which flows clean when we take care of the land. We need the land for good health — places to play and explore, to exercise and let go of stress. We need the land for vibrant communities — gardens, parks, and trails that draw people, where neighbors get together. We need the stories rooted in the land, so we can explore who we are. We need the beauty of the land to inspire us.
The mission of the Preservation Trust is "to protect, preserve and enhance the Simonton Lake Area Watershed for present and future generations."
In fulfilling this mission, the Preservation Trust works on environmental conservation projects, land conservancy, water quality programs, wildlife enhancement and wetlands preservation.
The Trust is a not-for-profit, 501(c)(3) organization. All donations are tax deductible.
Created in 2016, the Trust currently owns 12 acres of farmland in the Simonton Lake watershed.
SLC Board Members
President
Ryan Harding
312-984-6483
Treasurer
John Rose
574-596-9484
Secretary
Amy Matherly
574-262-4773
Member
Dennis Schermerhor
Why preserve land?
The land is our legacy and our future. The Simonton Lake watershed was farmland and woods just 150 years ago. The lake was a place where people from the nearby town of Elkhart came by horse and buggy to swim. A few small cottages were built. The lake drew people to its shores and now has homes on virtually every parcel of land. Channels were dug, a public landing was built, streets were paved, business followed. Neighborhoods near the lake were developed.
There are some areas which remain undeveloped, some wooded, some wetlands. Our goal is to keep these special areas undeveloped to protect wildlife, provide for areas of enjoyment for residents and to keep the ecology of the watershed in balance. Preserving and protecting the land around Simonton Lake also enhances water quality.
Projects
Sediment Removal Project | Spearheaded by the Lake Association, the Trust has sought grants and donations to fund the project. This project fits our mission as its outcome will be cleaner, clearer water.
Land Acquisition | The Trust currently owns 12 acres of farmland south of the small basin. Currently this land is being used as a sediment basin for the sediment removal project.

Fund Raising
The Trust raised funds through personal donations, corporate donations, grants and fund raising projects. Fund Raising Projects for 2017 TBA.
Buy A Buoy Campaign
In 2016 the Trust spearheaded fund raising for additional buoys on the lake. A matching donation was surpassed. Buoys were ordered, delivered and placed by volunteers in "no wake' zones.

North Shore Neighborhood Park-
The Trust received permission from the County to maintain and improve a small area of county-owned land at the intersection of Bell Avenue and North Shore Drive. Through a fund raising drive, enough money was raised to put in fencing between the park and private homes, take down diseased trees, add landscaping and level and seed the area. This land, once an eyesore, is now a neighborhood park.
The Trust is currently working to preserve land in the Simonton Lake watershed in two ways:
Conservation easement | " A conservation easement (also known as a conservation restriction or conservation agreement) is a voluntary, legal agreement between a landowner and a land trust or government agency that permanently limits uses of the land in order to protect its conservation values. It allows landowners to continue to own and use their land, and they can also sell it or pass it on to heirs. The limits of the conservation easement 'runs with the land,' meaning that even if the land is inherited or sold the restrictions stay in place.

If you need to sell your land but don't want to see it destroyed by development, a land trust can help. Prior to the sale, you can work with you're the Trust to place a conservation easement on the land before it goes on the market.

Donation of Land for Conservation | Donating land for conservation is one of the finest legacies a person can leave to future generations. If you choose to donate your land, the trust can work with you to see if this is best for your purposes. The full market value of land donated to a nonprofit land trust is tax deductible as a charitable gift.